PBO and Kevlar Mixture Felt Pad
Zylon, which also called as PBO has 5.8 GPa of tensile strength, which is 1.6 times that of Kevlar. Like Kevlar, Zylon is used in a number of applications that require very high strength with excellent thermal stability up to 600℃.
The various applications of zylon including body armour, space elevator research, high-altitude balloon science, motorsport, standing rigging, conductive textile and structural rehabilitation.
PBO is the strongest and stiffest of commercially available fibers used to repair and strengthen concrete and masonry structures in externally bonded composite systems.
Currently, Kevlar has many applications, ranging from bicycle tires and racing sails to body armour, because of its high tensile strength-to-weight ratio; by this measure it is 5 times stronger than steel. It is also used to make modern drumheads that withstand high impact. When used as a woven material, it is suitable for mooring lines and other underwater applications.
Kevlar maintains its strength and resilience down to cryogenic temperatures (−196 °C); in fact, it is slightly stronger at low temperatures. At higher temperatures the tensile strength is immediately reduced by about 10–20%, and after some hours the strength progressively reduces further.
Our product commonly used for the initial table and the forepart of run-out table of the aluminium extrusion lines.
Advantages:
Excellent high temperature resistant performance.

Long service life and abrasive resistance.

It will not bring scratches and black marks to aluminium like graphite.

The service life could be increased with our special hardening resin processes

Heat resistance up to 600°C

High density with no delaminating or fuzziness

Abrasion resistance with smooth cutting and even surface.
Detail Images
Application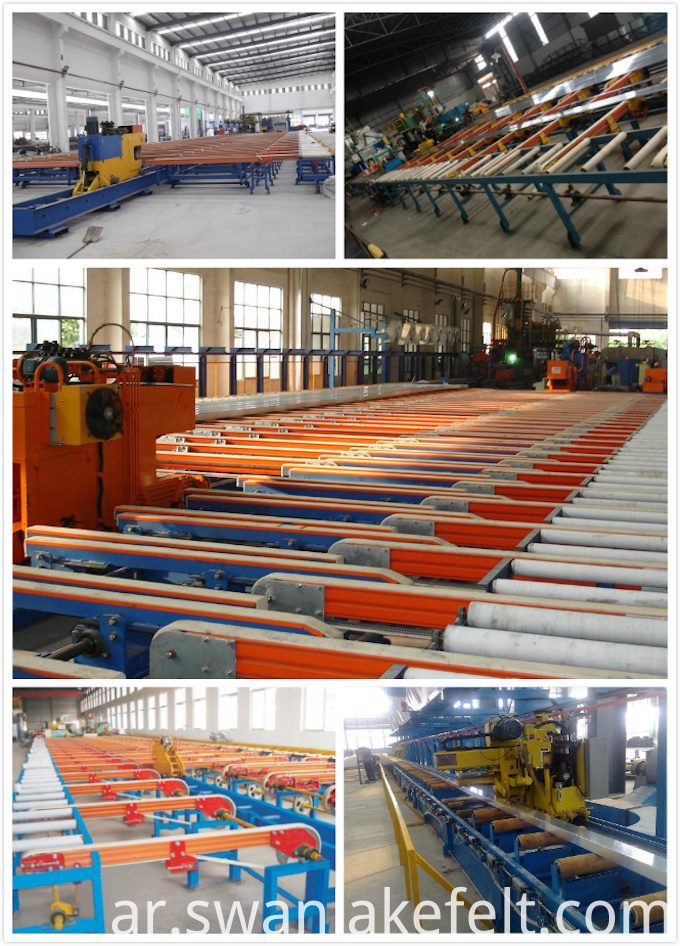 Company Information
Company information for Polyester Needle Punched Felt For Industry
SUZHOU SWAN LAKE FELT CO., LTD. has been manufacturing textile products since 1996.
SWAN LAKE is the manufacturer with full in house capabilities of designing, developing and producing needle punched non woven fabrics, home textile carpets and industrial heat resistant felt. We recently have 6 sets of non woven production lines, 20 carpets production lines and 5 industrial felt production lines, 2 anti slip dotted machines (Chinese widest dotted machine).
SWAN LAKE is a leading producer and supplier of high quality needle punched non woven fabrics, our products have applied in home textile, civil engineering, transportation, construction, garment industry. We have over decades` experience in needle punched non woven fabrics production.
With the cooperation of the researchers and engineers from China Textile University, in early 2000, SWAN LAKE has invested the new production lines for high temperature applications include aluminum and steel production, chemical, pharmaceutical industries, food industry and the precise instrument areas.
Based on the rich experience in non woven technology industry, we have expanded our product range and launched a modern plant for home carpets and rugs production recent years. We provide backing materials for our own carpets and rugs, in this way, the quality of our home textile can be guaranteed all the time.
Devotion makes the profession. We wish to be your business partner in the near future.
Warranty
Our Polyester Felt normally it's ok to use for about 1-2 years.
FAQ
1. Why do you contact us?
If you are interested in our product, we can provide free sample.
2. If your product have problem, how do you deal with?
If the quality have problem, you can ask for replacement, and we will afford the corresponding.
Packing
Plastic bag + Carton box
Our Service
The service for wholesale manufacturer polyester carpet with printing
OEM Service is acceptable
Trial Order is available
Samples can be sent to you for reference in 7 days
we are on online service for 24 hour
Quality Controlling while manufacturer
Quality Checking before packing
Quality Assuring before shipping
Very fast delivery within 15days -20days once we receiving 30% deposit or L/C at sigh